Planechase Mafia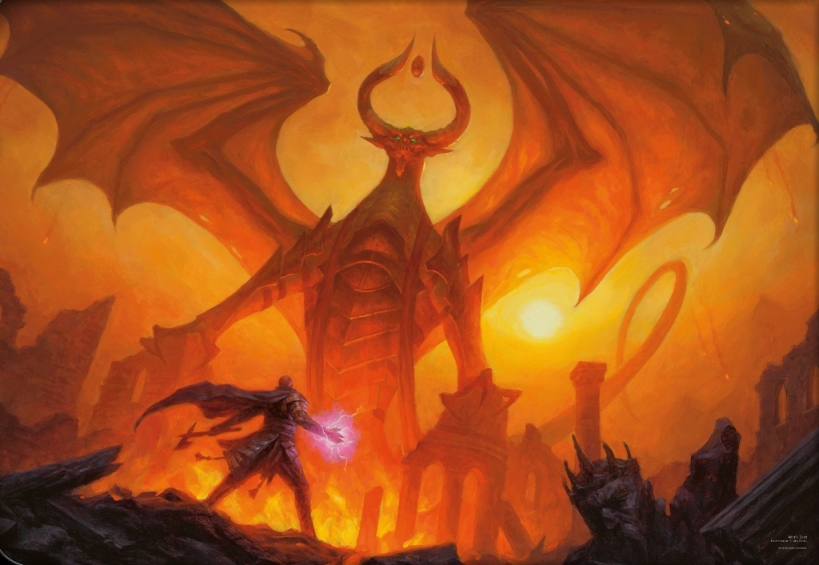 Nicol Bolas, the last of the true Elder Dragons, the one-time God of many planes and the self-titled most powerful being in the multiverse, has a plan. His obsession with regaining his lost power will soon come to fruition, though a few others might have to lose in the process. All he needs to do is bind, capture, then harness the spark of every other planeswalker in the multiverse. Should be easy enough for a being who claims to be the closest thing to omnipotent the multiverse has ever seen.

There are, however, some complications. The spell that binds the sparks together requires an inconveniently large number of planeswalkers to initiate. The spell to capture their sparks as they die requires an inconveniently slow rate of death. And the spell to harness the sparks after they've been captured requires that Bolas and his own minions be bound to the same spell holding the rest of them.

No doubt the planeswalkers will fight back. All told, the process will take several days, over which time the entire group of planeswalkers will be irreversibly bound together. If one planeswalks, the rest will be dragged along with them through the Blind Eternities. Carrying that much baggage through the chaos between worlds will make guidance nearly impossible, even for Nicol Bolas, and there's no denying that this too might be... inconvenient.
Welcome to Planechase Mafia! In this game, each player will have the ability to, once per Day, planeswalk to another plane, dragging all other players along with them. The magic binding you all together makes direction within the Blind Eternities very difficult, so the new plane you arrive at will be chosen at random, weighted according to how recently the group has been there. Each plane will have unique effects upon the game that may be detrimental or beneficial, depending on your goals. This ability can be used either publically by writing Planeswalk in bold on a new line or by PM. The effect of that planeswalk will be considered to be immediate at the time of the ability use, so all future votes, unvotes, or ability uses will be considered to be on the new plane, even if the planeswalk hasn't yet been announced. Use caution.
There are 28 planes/locations that you might encounter through the course of the game, shown in the spoiler below. I will fill in this list periodically with the plane abilities as you visit them.
In addition to planeswalking, you may have or gain other abilities that can be used during the Day phase. While you are welcome to publically submit these actions in-thread, all actions can also be submitted privately by PM unless explicitly stated otherwise. If an action, including planeswalking, is publically submitted AND submitted by PM simultaneously (say, within two minutes), the PM will take priority. It is possible for the PM to say to disregard that action; the PM will still take priority, and nothing will happen. Once an action is taken it is considered to happen at the time of the ability use and cannot be reversed, even if I haven't resolved it yet.
There are a few abilities in this game that refer to "Daytime". That is a measure of real time that takes place during the Day phase. For example, if something were to happen after 24 hours of Daytime and Night was called after 14 hours, that something would occur 10 hours after the beginning of the next Day.
Please be aware that some abilities in this game will affect the dead. There will be no spectator chat and dead players are subject to exactly the same rules as living players – do not communicate outside means that I provide.
Sample Vanilla Town Role PM
---
Alive
1. hamfactorial
2. rezombad
3. rcwraspy
4. Pedrobear
(replacing TubeHunter)
5. ( G_R )
6. ZombieManders (resurrected Day 5)
Dead
1. Jamie -
Chandra Nalaar
- Lynched Day 1
2. Manders
(replacing Dechs Kaison)
-
Venser, Shaper Savant
- Killed Night 1
3. rianalnn -
Teferi, Mage of Zhalfir
- Killed Night 2
4. imopen2 -
Kiora, the Crashing Wave
- Lynched Day 3
5. WitchHunt -
Karn, Silver Golem
- Killed Night 3
6. RedNihilist -
Sarkhan Vol
- Lynched Day 4
7. Mcdonalds -
Tezzeret, Agent of Bolas
- Devoured Night 4
8. Col. Khaddafi -
Nicol Bolas, Elder Dragon
- Lynched Day 5
Replacements
None. Contact me if you want to be added to this list.
Waypoints
Day 1
Night 1
Day 2
Night 2
Day 3
Night 3
Day 4
Night 4
Day 5
Endgame
Iso link (replace my name with who you want to search for):
search.php?t=3256&sf=msgonly&author=Stardust