Throw enough goblins at any problem, and it should go away. At the very least, there'll be fewer goblins.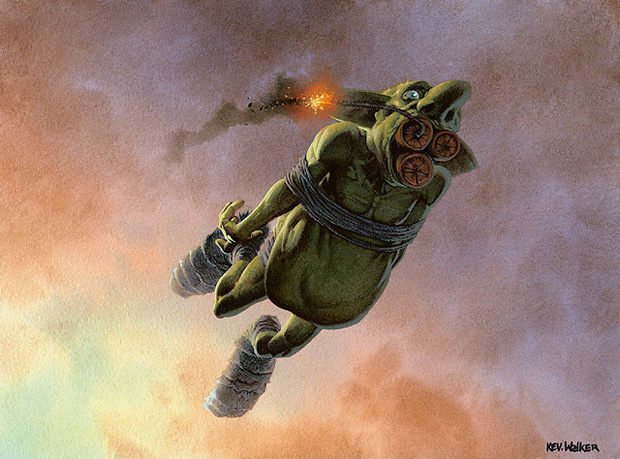 I'm aware that we already have two threads for Krenko on this site. Manasjap's post/list is what inspired me to build a Krenko deck; giving me an idea of some cards that would work well in goblin EDH and reminding me how much fun I had with goblins when M12 was part of Standard. I saw that the deck would be very inexpensive, so looked through a few commons bins and entered a few card names into TCGPlayer, and less than $50 later, I had a 1v1 EDH deck that could deliver a serious ass-kicking.
Since then, I've put a bit more money into the list, but not much. First off, I bought a
pack of gold Dragonshields and a set of Snow-Covered Mountains, but that's probably been the biggest upgrade the deck has received. As a result, the list still has a handful of less-than-optimal cards in it, but a foil
Krenko, Mob Boss
in a hard plastic sleeve does more than enough to compensate for this. The list below is what I am actually playing at the moment, not what I would play if I had every card in the format. It does not follow the French Banlist, because none of the people I play against play French rules.
[deck]The Army[/deck]
The first thing you should know about this deck is that it can be very, very fast. It is capable of dealing lethal damage by turn 4, and many hands will be able to kill them dead by turn 5. Keep this in mind when piloting the deck. Make mulligan decisions using the same reasoning that you do for any other aggro deck (ask "can this hand kill them" rather than "can this hand do something, and keep me alive until I can do that thing"), but also keep it in consideration that you should be able to: 1) cast and tap Krenko, and launch an attack of goblin tokens on or before turn six; and 2) put enough goblins on the battlefield before you cast Krenko in order to make that attack sizable enough to end the game. Cards such as
Brightstone Ritual
and [card]Krenko's Command[/card] do a wonderful job of fulfilling the
second requirement.
While the deck may be outstandingly fast for a non-combo deck in this format, this does not mean that it lacks reach or a plan for the late game. Your enchantments and
Shrine of Burning Rage
will survive most sweepers, and
Goblin Chirurgeon
helps your creatures to survive as well. You even have a sweeper of your own. It's called
Ruination
, and it often hurts more than a
Planar Cleansing
. When you're staring a big, scary voltron general in the face, drop a
Zealous Conscripts
and kill them with their own weapon. If the game's going long and you seem to have run out of gas,
Wheel of Fortune
,
Reforge the Soul
and
Sensation Gorger
make for some very welcome topdecks.
Goblin Matron
and [card]Goblin
Recruiter[/card] also help you to get back to your original game plan (I usually fetch Recruiter with Matron).
Oh, remember that piece of wisdom written on
Goblin Piledriver
? As it turns out, throwing enough goblins at a problem is the key to the deck's infinite combo. With Krenko,
Phyrexian Altar
Skirk Prospector
and something to give Krenko Haste, as well as 6 or more goblins (something that is not very hard to achieve with this deck), you can make infinite goblins. Tap Krenko to give you a total of 16 goblins, then sac Krenko plus 5 tokens to the altar and use the red mana to cast Krenko again. Tap Krenko, giving you 20 total goblins, and have 8 goblins (one of which is Krenko) make funny little popping sounds so you have enough mana to cast your general again so you can repeat the cycle, giving you a net increase of 2 goblins each time. If you also have a [card]
Thornbite Staff[/card] in play, you can deal infinite damage as well, and not have to worry about never ever ever being able to cast your general again when your opponent wipes the board. In fact, you only need 2 goblins (Krenko and Skirk Prospector) for this combo, and you don't even have to sac your general, which is a plus if they manage to interrupt it.
Goblin Sharpshooter
can take the place of
Skirk Prospector
in this combo (shoot your goblin token to untap both Krenko and Sharpshooter), except you don't get infinite mana, so you can't use Krenko to deal infinite damage through
Thornbite Staff
.
Cards I own, and once played or thought about playing, but do not play
---
Cards I don't own, but would totally play if I did
---
Multiplayer Transition
Yeah, Krenko's also pretty good in multiplayer, where he prefers to play as a combo general (though I suppose a balls-to-the-wall,
Tears of Rage
-style token overrun deck could work. Since red is very weak in its ability to tutor (though I did pick up a copy of
Gamble
, you can try to play a number of very similar cards that are interchangeable in your infinite combos. I have yet to assemble all of the cards I need to transform this into a strong multiplayer combo list, but for starters, I added some cards to improve the late game and give the deck a bit more resilience.
[deck]In[/deck]
[deck]Out[/deck]
Partial credit for this deck can be attributed to multiple sources. A number of the card choices for the early 1v1 version came from simply looking at a few top 8 lists in European tournaments. Much of the inspiration for the multi-player, more combo-oriented version comes from dorino's fantastic primer found [url=
http://forums.mtgsalvation.com/
showthread.php?t=509897]here[/url] on MTGS.